.
MARCH 13TH SCREENING AT THE
DC INDEPENDENT FILM FESTIVAL
Veracity TV, Full Steam Sports & DogHouse Media cordially invite you to the premiere screening of their first feature film, Late Rounders, at the DC Independent Film Festival March 13th.
One year in the making, our cameras followed 5 college football players and their agents from their last college game through their training, combines & pro days and caught all the drama behind the scenes during the NFL draft. You'll get a glimpse of a side of football players, agents and the NFL that has rarely been seen before.
Our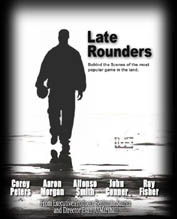 premiere screening will be:
Sunday, March 13
Session Opens at 3:30pm
Artisphere/Dome Theatre (1101 Wilson Boulevard, Arlington, VA 22209)
Metro: Rosslyn
There are only 240 tickets available for this session, so be sure to order them in advance at www.dciff.org. Tickets are $10 each.
After the screening, some of the stars from the film will be on-hand (along with Evan Marshall, the director) for a Q&A with the audience. We are also planning on heading up to the Front Page restaurant for a few drinks afterward. Hopefully you can join us there too!
We look forward to seeing everybody and sharing what we think is a pretty interesting and entertaining film.
To see a trailer, sample clips and more info on the film visit: www.laterounders.com
And for everybody who makes it to the screening, be sure to vote Late Rounders as "excellent" on the audience award ballot. The film with the highest percentage of "excellent" votes at the festival wins this award (with your help, we should be a shoe-in!).